SCUBA TANK PNEUMATIC FILL YOKE

The Faster Way to Fill a Tank, No Knob to Screw and Unscrew,
No Bleed Screw usually hard to operate, just toggle the bleed knob
The Spring loaded Piston will back up as you present it to the
Tank Valve, just open the Valve or Air Line, the Residual Pressure
in the Tank will do the rest.

Chrome Vanadium 200 mm (8 inches)

Anthony's Key Resort Roatan Aggressor Fleet Texas A & M university TX Bamboo Reef CA
Pinnacles Dive shops CA Underwater Safaris IL Scuba West FL Blue Seas Scuba NV
Harbor Dive Center CA Dive Rite FL & NY Stark Industries TX The Dive Shop VA
Bonaire Dive & Adventure The Scuba Tank PA Juergensen Marine PA Johnson Engineering Nasa

# WRS $45.00 (slightly angled)

# WRB $45.00 (angled as shown)

# WRB $45.00 (200 mm angled as shown)

Raved about by the dealers & Instructors who have been using them for the last 8 years.
Spring loaded jaws allow working without resetting the jaws on every turn !
The thin profile and angle of the jaws fits in the tightest work areas.
It will even access the hard to reach nut on Poseidon first Stage Regulators

Partial Client's list: Bellagio Cirque du Soleil Show O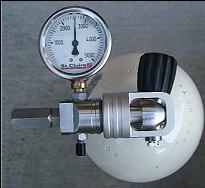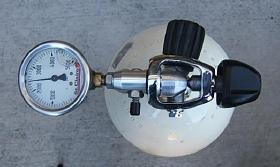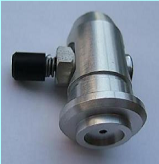 SCUBA TANK STANDARD FILL YOKE/PRESSURE TESTER KIT

Ask for by Dealers, this kit consist of: 1- the fill body (3 ports 7/16 20 just like the pneumatic Fill Yoke above)
& 2- the Quick Bleed (as above)
Since most dive Operations have plenty of yokes around, save money and enjoy the benefits of our quick bleed
& the 3 ports configuration of the unit.
Just drop our Kit in a yoke that you have (it will fit most from USD, Dacor, Sherwood , Tusa (as shown) etc.
It takes about 1 minute to install.
the Kit will also directly receive most high pressure Submersible Pressure Gauge which are 7/16 20 thread
Use the kit as a tool to calibrate your pressure gauges since you can screw 1 high precision gauge and the
tested gauge on the same unit side by side.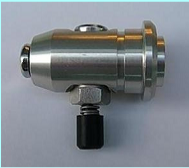 Master Cliptm used by the Navy Seals on their Navigation Board
Designed by Christian StClaire, this clip is Quick on - Quick off in a linear motion even under heavy loads.
Made of non magnetic Stainless Steel, Heat Treated & Special Treatment Process afterwards
A number of different attachments can go on the loop (attachments descriptions to come soon)
as with Navy Seals some specialized attachments can be designed for your application.



Shown actual size on a 800 X 600 screen resolution





Designed by Christian StClaire,

Chamber and Piston: Pacivated Stainless Steel 316 Yoke: 7000 series Aluminum.
The quick bleed is user friendly and can be activated by anybody's little finger, guaranteed !!

3 Ports All O-ring seals Allows custom configurations. Can be used as a Fill Yoke or Tank Pressure Tester
No ramming or scraping of the tank valve.